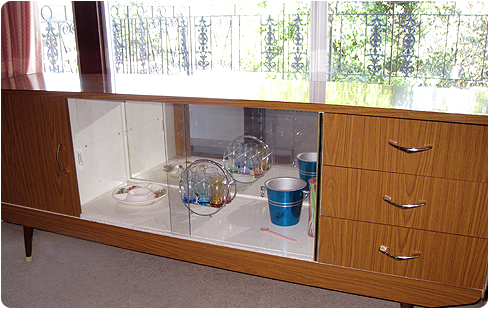 Allow me to introduce you to Doris, my retro sideboard. Isn't she lovely? I found her on eBay for the enormous sum of $5. Yes, only five dollars. I couldn't believe my luck, either. I had been searching for one of these sideboards for a long time. Today she had another spruce up and I put some of my 50s/60s collectibles on the shelf. I named her after Doris Day. Yes, I do like naming inanimate objects. hehe
Doris is in want of a replacement glass shelf, something which I will buy very soon, and then a new coat of semi-gloss paint inside and a bit of a polish. Of course, then I can buy even more retro things to display in and on Doris. Ah, retro goodies, I do so love you.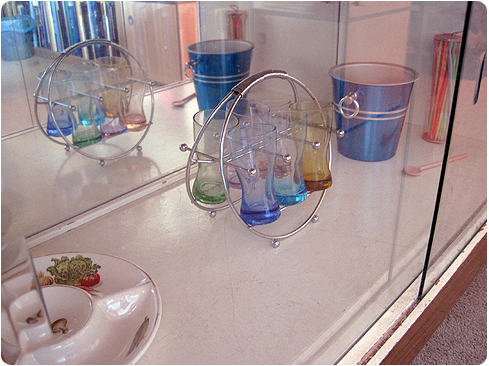 I feel quite chuffed with how much I got done today. I cleaned Doris, moved around some of my collectibles, came up with my own crocheted flower (which I am going to make into a brooch) and I made a Persian roast chicken for dinner, with mashed potatoes, spiced carrots and zucchini plus gravy. Yum! More about my Persian chicken recipe soon. Below is a photo of my latest granny squares (playing with colour combinations) and my crocheted flower. I think it is a little like a chrysanthemum in style. Happy to have had a productive day, after quite a few non-productive ones.
I hope your day has been filled with good things!