Now that I can make granny squares, I've started learning how to make other crochet motifs. The first was hexagons and today I started learning how to make simple flowers. I love the thrill of learning something new and then practising to refine your technique. I've been enjoying looking through crochet blogs and come across some wonderful tutorials, two of which taught me the two motifs below.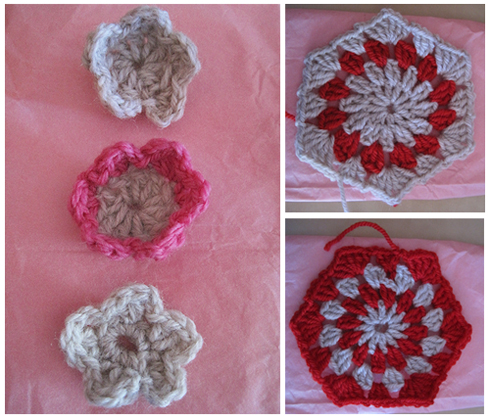 The flowers are in the order in which I made them, starting at the top, the same with the hexagon motifs. With both, I'm not 100% spot on with the technique, but I'm quite pleased with my progress so far. I haven't blocked any of my crochet motifs yet, something I really should learn how to do.
For the Hexagon motif, I used the tutorial from Life on Laffer and for the flowers I used a tutorial from Attic24.
Do you have any favourite crochet sites or tutorials you'd like to share? Please do! I'll include them in a new post with your links plus a link to you, then we can all explore fabulous crochet sites together.
– – – – – – – – – – – – – –
Update: More flowers! Wheee, I'm on a flower kick:
I played with the pattern and instead of doing 9 dc in the circle, I do as many as fit to make a tight circle, then add the petals. The more dc the more petals, it seems.