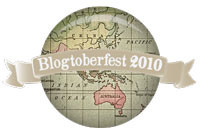 As I am the queen of procrastination, I decided to join this years round of Blogtoberfest. One post, every day throughout October. Hopefully, I will manage to post every day and not procrastinate! Blogtoberfest is run by the lovely Tinnigirl and Curlypops.
I'm also thinking about signing up for Socktoberfest, a month long celebration of knitting socks! As it happens, I have a recently started pair of socks on the needles. These socks are for my darling Husbitect. And, umm, remember I mentioned procrastination? I may have had the yarn for these socks in my possession for over a year. Ahem. This is my third pair of socks, all three using a pattern which includes an afterthought, or peasant heel. My first socks are pictured below.
Are you going to join Blogtoberfest or Soctoberfest? Maybe you are planning on both?